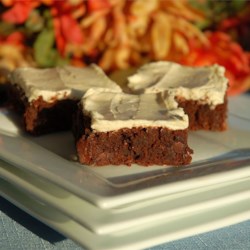 I recently found out that I am a whole lot more Irish then I thought. This new found knowledge makes me want to explore Irish foods and recipes and have some fun this year for St. Patrick's Day. Since it's a little over a week away, I am going to devote this week to Irish foods. If you have an Irish dish that you are interested in or need a recipe for, or would just like to see on the blog, please feel free to leave a comment and let me know. I love comments!!
Monday's delight is a dessert. I love brownies, so I am excited to try these
Irish Cream Brownies
(recipe as found on allrecipes.com).
1 (20 oz) package brownie mix
1/2 c Irish cream liqueur
1/2 c vegetable oil
2 eggs

2 tsp milk
2 tbsp Irish cream liqueur
1 tsp brewed coffee
1/2 c butter, softened
2 c confectioners' sugar
1 tspvanilla extract
1/2 c toffee baking bits (such as Heath Bits 'O Brickle®) (optional)
Preheat oven to 350 degrees F (175 degrees C). Grease a 9x13 inch baking pan.

Stir together the brownie mix, the 1/2 cup Irish cream liqueur, vegetable oil, and eggs. Spread in the prepared pan.

Bake in the preheated oven until the top is dry and the edges have started to pull away from the sides of the pan, about 30 minutes. Remove from oven to cool completely on a wire rack.

Place the milk, 2 tablespoons Irish cream liqueur, and coffee in a small, microwave safe bowl. Microwave on High until the mixture boils. Set aside to cool completely.

Beat the butter and confectioners' sugar with an electric mixer in a bowl until smooth. Add the vanilla extract and the cooled Irish cream mixture, and beat well. Spread evenly over the cooled brownies. Sprinkle evenly with the toffee bits.
As always, I will be back to add my changes to this recipe.