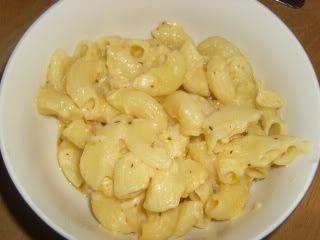 I bought the ingredients to make a sophisticated macaroni and cheese, but ended up with a late night to cook dinner, so I ended up making a quick and easy one with some of the same ingredients as the sophisticated, bake for an hour, recipe. Always remember to season to YOUR liking, not mine, since my amounts are only approximate.
Total cooking time: 25-30 minutes
1 lb.jumbo elbow macaroni noodles
2 c Kraft Cheddar Melt blended shredded cheese
1 package Kraft Italian blend shredded cheese
1/4 c grated Parmesan (the pizza topper kind from a can)
1/4 c of milk
1/4 c of butter/margarine
Seasonings used:
Chef Paul Prudhomme Pizza & Pasta Magic
Salt & Pepper
Tony Chachere's Special Herb Blend
1. Cook macaroni according to package directions in a 3 qt. pot. Drain.
2. Pour cheeses in a microwave safe container with the 1/4 cup of milk. Microwave on the "melt cheese" setting for 2 1/2 minutes. Let sit for 1 minute, then stir. Add in seasonings to taste. Place back in microwave for another 2 1/2-3 minutes. Let sit for 1 minute. Add in 1/4 cup of grated parmesan. Stir until well blended. The parmesan should give it a crumbly type of texture.
3. Blend 1/4 cup of butter/margarine into drained noodles.
4. Pour cheese mixture over noodles and stir until well blended and all noodles are covered. If sauce is too thick, use a dab of milk to loosen it up a little bit.
5. Serve while hot.
This dish also reheats well, and like all macaroni & cheese, tastes even better reheated.
Suggested add-ins: Bacon bits, broccoli.