There's an old saying going around that the way to a man's heart is through his belly. This is never more true then on Father's Day. I've been very bad about keeping up with this blog, but I'm trying to do better. Some of the recipes I share here won't be mine, because I simply haven't had time to cook, but I can at least share a good recipe when I find one, right? So, without further ado, here's today's treat, just in time for Father's Day. It is so NOT safe for diabetics, but you only live once right?
Chocolate Streudel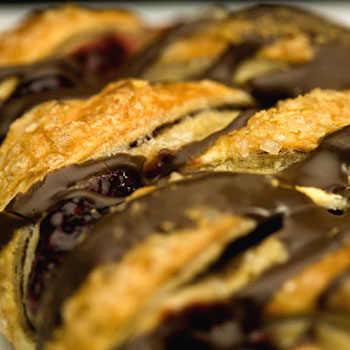 1 box (17.3 oz.) puff pastry sheets, thawed, divided
6 oz. NESTLÉ TOLL HOUSE SWIRLED Milk Chocolate and Peanut Butter Morsels, divided
4 oz. cream cheese, softened
1/4 cup creamy peanut butter
1 large egg
2 tbsp. powdered sugar
1 tbsp. all-purpose flour
Directions:
Preheat oven to 400 degrees. Grease baking sheet.
Unfold one pastry sheet on baking sheet. Sprinkle 2/3-cup morsels over pastry to within 1/2-inch of edges. Combine cream cheese, peanut butter, egg, powdered sugar and flour in small bowl until smooth and dollop over morsels and carefully spread to within 1/2-inch of edges.
Dampen pastry around edges with water. Cut remaining pastry sheet into 1-inch-wide strips. Place over filling diagonally in lattice fashion one inch apart. Trim strips and edges where needed. Press ends of lattice to seal.
Bake for 20 to 25 minutes or until golden brown to the center. Place remaining morsels over filling between lattice strips while still hot out of oven. Let stand for 10 minutes. Cut into pieces; serve warm.
Once you've made this, leave me a comment. Let me know if you tweaked it, if you liked it, etc. I love me some comments!
Also, did you know that you can find recipes easily on My Daily Moment with their recipe finder? Just input the ingredients that you want to use and viola!