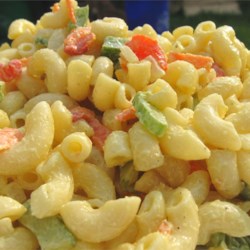 This is a family favorite. It never comes out the same way twice, but there's never any left when the party is over either....
4 cups uncooked elbow whole grain macaroni
1 cup fat free salad dressing
1/4 cup distilled white vinegar
2/3 cup white sugar
2 1/2 tbsp prepared yellow mustard
1 1/2 tsp salt
1/2 tsp ground black pepper
1 large onion, chopped
2 stalks celery, chopped
1 green bell pepper, seeded and chopped
1/4 cup grated carrot
2 tbsp chopped pimento peppers
1. Bring a large pot of lightly salted water to a boil. Add the macaroni, and cook until tender, about 8 minutes. Rinse under cold water and drain.
2. In a large bowl, mix together the mayonnaise, vinegar, sugar, mustard, salt and pepper. Stir in the onion, celery, green pepper, carrot, pimentos and macaroni. Refrigerate for at least 4 hours before serving, but preferably overnight.
What is your go-to cold side dish for a summer get-together?